Tele-Town Hall

June 2016 Tele-Town Hall "Understanding your Medi-Cal and Medicare Benefits"
May 25, 2016 Tele-Town Hall presentation
Wednesday February 17, 2016
Assemblymember Cheryl Brown (AD47) joined Executive Director, Greg Thompson – PASC, Consultant, Robert MacLaughlin, Assembly Committee on Aging and Long-Term Care, Assemblymember Cheryl Brown's office and Frank Tamborello Director – Hunger Action LA , and Member of CA4SSI coalition for a discussion about AB 1584, the SSI/SSP Incremental Restoration Act of 2016. To view the online presentation, click here.
[hr]
 To join the call dial  1-877-229-8493 and enter i.d. code 111563 at 6:00 PM on night of the event.
OR
Join us online, click

here

.
Click on the link above and join the call via computer with all the same features of using the phone, plus a PowerPoint presentation .
[hr]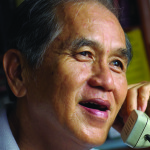 What is a Tele-Town Hall?
A Tele-Town Hall allows us to communicate with thousands of people instantly. It's a live, interactive format, which allows us to share important information, educate and train, answer live questions, and ask participants questions with multiple choices. At the conclusion of each event, participants may record their comments for post-event review and follow up. If you miss the invitation call, you can call in later by dialing 877-229-8493 and enter i.d. code 111563.
How it works
Two to three days before the event an automated message will go out informing people to "save the date" for the next Tele-Town Hall. The night of the Tele-Town Hall another message will go out, those who answer the call will be encouraged to stay on the line and join the call. If an answering machine picks up, the recording explains the purpose of the call and provides a toll free number to join the call. The Tele-Town Hall begins moments after the first listeners join the event. As others join in, they will hear the conversation already in progress. Moderated by our Executive Director, Greg Thompson, and joined by guest speakers, the call is similar to that of a radio talk show.  A recorded copy in the form of a data or music cd can be requested if you missed the call, and it will be posted to our website on the video page two to three weeks after the event date. To sign up for our Tele-Town Halls, click here
[hr]
April 18th, Tele-Town Hall – Our first Town Hall
On April 18, 2013  Executive Director Greg Thompson was joined by Assembly member Holly Mitchell in an effort to educate the community about the 8% reduction in IHSS hours, the new Cal MediConnect Program that will affect Los Angeles County IHSS recipients, along with Medi-Cal and Medicare recipients.
HUGE SUCCESS!!  The call was amazing and connected with 3,900 people that evening. We would like to thank everyone who joined the call, and appreciate all of the comments and questions that were left for the PASC staff.
To listen to a recording of the call, click here