The 2018-19 Governor's Budget proposes spending of $190.3 billion in total state funds, consisting of $131.7 billion from the General Fund, $56.1 billion from special funds, and $2.5 billion from bond funds. The proposed budget maintains a balanced budget for the foreseeable future under current projections and will also bring the Rainy Day Fund to the maximum level allowed under the State Constitution.
HEALTH AND HUMAN SERVICES
The chart below shows the proposed budget for Health and Human Services, which is where In-home Supportive Services falls. IHSS is predicted to have an 5.14% increase in caseload in 2018-19.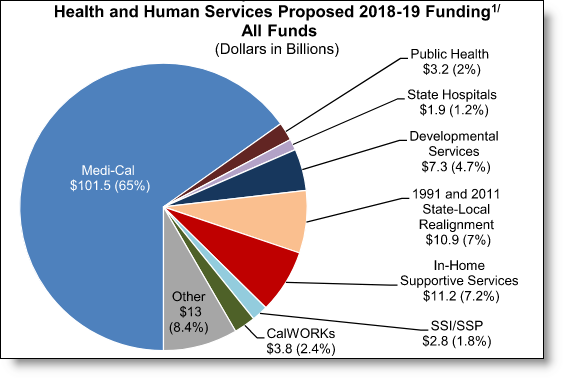 The Budget includes an increase in IHSS expenditures of $260.3 million,
to reflect the impact of the increase in the state minimum hourly wage from $11.00 to $12.00, effective
January 1, 2019.
The Budget includes $11.2 billion ($3.6 billion General Fund) for the IHSS program in 2018-19, a
7.7-percent increase in General Fund costs over the revised 2017-18 level. Average monthly caseload in this program is estimated to be 545,000 recipients in 2018-19, a 5.4-percent increase from the 2017 Budget Act projection. General Fund costs in this program have more than doubled since 2010-11, while caseload has increased 26 percent.
IHSS Administration—The Budget includes an increase of $27.8 million General Fund in 2018-19 for county IHSS administrative costs to reflect revised workload and budget assumptions

IHSS Provider Paid Sick Leave—The Budget includes $29.9 million General Fund to reflect implementation of eight paid sick leave hours for IHSS providers beginning on July 1, 2018.

To read the Health and Human Services Budget Summary for 2018-19 click here.

SSI/SSP

Effective January 2018, maximum SSI/SSP grant levels are $910 per month for individuals and$1,532 per month for couples. The federal cost of living adjustments based on the current Consumer Price Index growth factors are 2 percent for 2018 and a projected 2.6 percent for2019. As a result, the maximum SSI/SSP monthly grant levels will increase by approximately $20 and $29 for individuals and couples, respectively , effective January 2019.

For the full 2018-19 proposed Budget Summary

click here.