PASC Peer Mentoring Program

PASC's Peer Mentoring Program provides a platform for IHSS consumers to discuss issues that concern them in their communities.
Peer Mentors conduct small discussion groups about IHSS issues such as transportation, the new Cal MediConnect Program, Department of Labor regulations, cuts to service delivery, and other topics suggested by consumers. These small group discussions of 5-10 people usually last two hours and are held in senior centers, independent living centers, and senior housing facilities. The mission is to provide an opportunity for IHSS consumers to gather together and express their ideas and opinions, learn more about issues, and connect with other seniors and persons with disabilities who may have similar interests and issues. They meet people living in their community, while finding solutions to common concerns.
PASC Peer Mentors Are on the Map!
The goal is to connect (IHSS) recipients, providers, and family members with each other on issues and services they need to remain independent in the community. PASC's Peer Mentors are conducting small discussion groups in their communities with IHSS consumers who are Medi-Medi about the basics of Cal MediConnect and they are building a PASC consumer network in their community.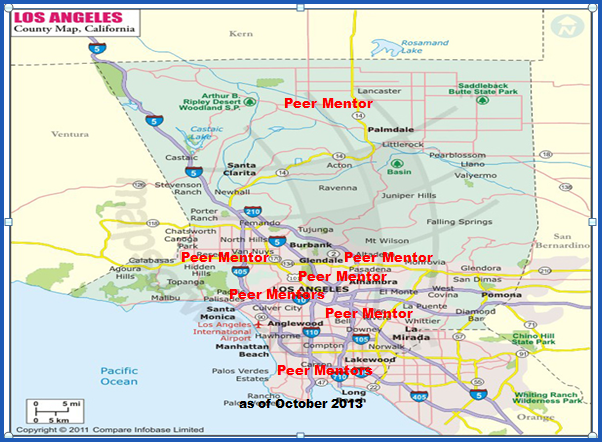 Using PASC's "Just the Basics," the Peer Mentors talk about Cal MediConnect—what is it, when does it start, why would I want to be in it, why would I not want to be in it, how do I get in it and can I get out, can I keep my doctors, and where can I go for more information?  These small group discussions generally last 2 hours and are held in senior centers, senior high-rises, and independent living centers with no speeches, no power point, and lots of discussion.  Very importantly, the peer mentors do not promote any managed care plan or any insurance program.  The participants in these discussions are IHSS consumers, Medi-Medis, family members, IHSS providers, and those who want to know about Cal MediConnect.
PASC would like to schedule a Peer Mentor discussion of Cal MediConnect in your area.  To do this, we need a room in a facility where seniors and/or people with disabilities gather, a 2-hour block of time, a room that holds 5-10 people including a couple wheel chairs, and a table and chairs.  PASC provides the flyer about the meeting, the frequently asked questions in English/Spanish, sign-up sheet, name tags, and light refreshments.
If you are interested in sponsoring one of these discussions or 
Becoming a Peer Mentor, contact PASC, (818) 206-7017, or email jhcanterbury@pascla.org
 or complete the sign up form.

---
 PASC Peers Outreach on Cal MediConnect
Over the past two years, PASC has done extensive outreach and education on Cal MediConnect.  Our outreach strategies start from the notion of listening, rather than presenting information. We used a simple one page handout of frequently asked questions and resource referral phone numbers.  PASC peer mentors, who are IHSS recipients with both Medicare and Medi-Cal, facilitated nearly fifty small group discussions in senior centers, senior housing buildings, and independent living centers throughout Los Angeles County.
These peer-facilitated discussions provided an opportunity for participants to exchange views, ask questions, and express their opinions about Cal MediConnect.  The peers didn't use power point loaded with multitudes of specific details and the goal of the peer-facilitated discussions was to urge participants to focus on what they were going to do to make their decision.  The peers worked to empower participants with referrals and research tasks that they could do to make a decision that was in their best interest.
While peers acknowledged the importance of a participant's question about program details, they did not provide answers, rather they engaged the participant in a strategy to figure out how to get the answer to the question they were asking-call the Center for Health Care Rights (HICAP), figure out which of the Cal MediConnect plans had providers near their home, talk to their current doctor, see which plans included their medications on their formulary, etc.
Participants often came into these discussions saying they were confused and that they "weren't going to do anything."  The peers would talk through those statements, so the participants could see that inaction would result in the State making a decision for the participant.  Another frequent comment was "I am just going to ask my doctor what to do," and the peers would have to talk through that statement to show that the doctor's interests did not always align neatly with the beneficiary's.  Peers sometimes asked "test" questions to see if participants understood their options.  Over and over, they reminded participants of resources available to them in making their decision: the Center for Health Care Rights, Senior Care Network, and participating in PASC's monthly telephone town halls.  The excitement and fun in these sessions were palpable!  People laughed, talked openly, argued with each other, expressed their opinions, felt free to ask questions that they said were "stupid," and often invited the peers back for another discussion.
If you would like to participate in the peer effort or would like to invite the peers to come to your building or senior center, please contact us.